Day EPA 608 Class Reviews
---
Dear Carl, I have no enough words thank you for supporting me in achieving this important goal in my career. Please accept all my gratitude and respect. Best Regards,
Eugen, from Romania
---
Hello Brother Carl, I'm sure you know by now I passed my test. So happy with that...Also to say your class was great. You explain things very well, make it easy to remember. [Your online test] was also great. I was having problems with my computer and they took over and resolved the issues and I was able to take my test with no problem. Thanks again for your help.
Tim M.
---
Hi Carl. I passed the Universal. Got 23/25 on core, 21/25 on Type I, 25/25 on Type II, and 21/25 on Type III for 92, 84, 100, and 84% respectively. Shucks. Missed some questions. Thanks again for your help.
Bud L.
---
Thank you Carl, I have a job interview this week. I will recommend this course, I found it very well taught. Thank you again for your patience.
Rick M.
---
I took and passed all sections of my proctored epa exam. Thanks! I just rewatched your videos and the notes every night, including the one from the previous day. Then right before the test rewatched and studied them all one last time. Your prep class worked well.
Will R.
---
Just wasted to say thank you... I passed all parts of EPA608.... I would definately recommend you to others that are trying to get into those fields. Thanks again.... Honestly I took any time I had to do what you said.... I found underlying with red marker key words on your print outs and then watching your video while looking at those underlined sheets... info was definately sufficient to pass
Adam M.
---
Hay Carl Phillip M. here I just want to thank you for helping me study and pass my universal 608 exam I will definately recommend you and your class to everybody that I know that needs to get their license
Phil M.
---
Good Day Carl, I just took the exam and passed all four sections. I should probably preface my comments by saying that I am a retired teacher that has taught everything from eight grade science to University level mathematics. I thought that the presentation and organization of the material was very good, much better than courses I have seen that were produced by VERY large educational supply companies. The pacing was very good and the explanations were concise and understandable to a nontechnician such as myself. As far as improvements that you might consider??? That is tough, I really can't think of any. I could not be more pleased with your assistance and communication. Thank you for your assistance in passing the exam successfully.
Tom H.
---
I ended up taking my exam today for my universal :D There were definitely questions asked that I didn't go over in my other trade school class so your classes were very helpful.
Liz, from Reddit
---
I just wanted to say thank You, The test went well Your a very Good instructor and I appreciate all your efforts for my success.
James H, from Yorba Linda, California
---
I passed the universal exam today. I could not have done it without your class. Thanks for everything!
Dwayne, from Riverdale, Georgia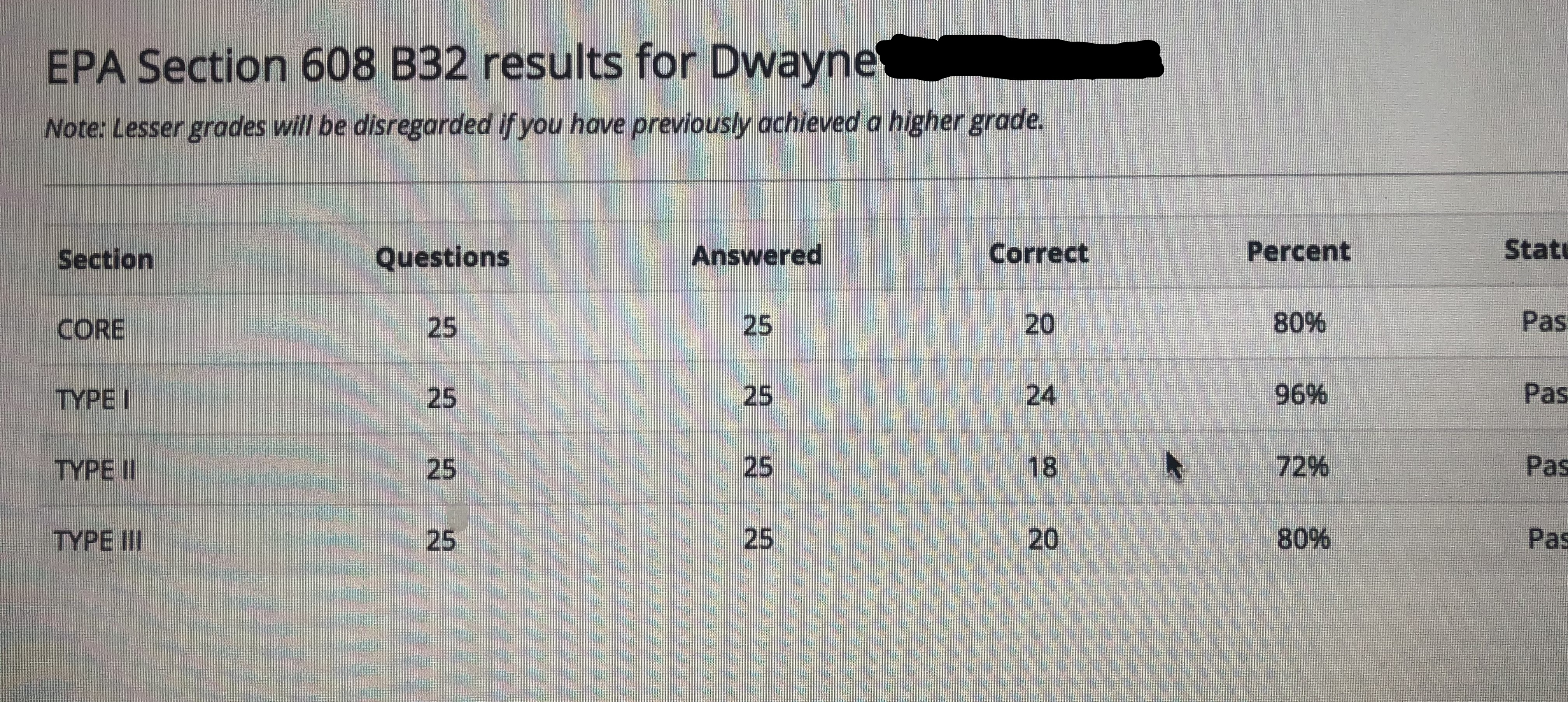 ---